Master Trading Skills to be Successful
Skill Sheet: What You Will Learn Here
What makes a successful stock trader?
How to hone your trade skills and make analytical decisions?
Skills of a successful trader -- calm mind, discipline, patience
Traits that helped world's leading investors/traders succeed
What does it take to be a successful stock trader? Common sense.
The bedrock of this highly risky yet supremely gratifying profession is sound judgement to stay grounded. To be a stock trader and have superior trading skills, one does not have to be very qualified or educated. All you need to have is the desire to study and research your subject, the ability to make quick decisions suited to the situation and the ability to ride through tough times with a cool head.
In fact, traders come in from diverse backgrounds as markets do not have the minimum educational qualification pre-requisite. Therefore, along with basic knowledge of trading, emotional discipline and emotional quotient play a big role in one's success or failure in the stock markets.
Let's look at some of the world's leading investors/traders and the traits that made them who they are.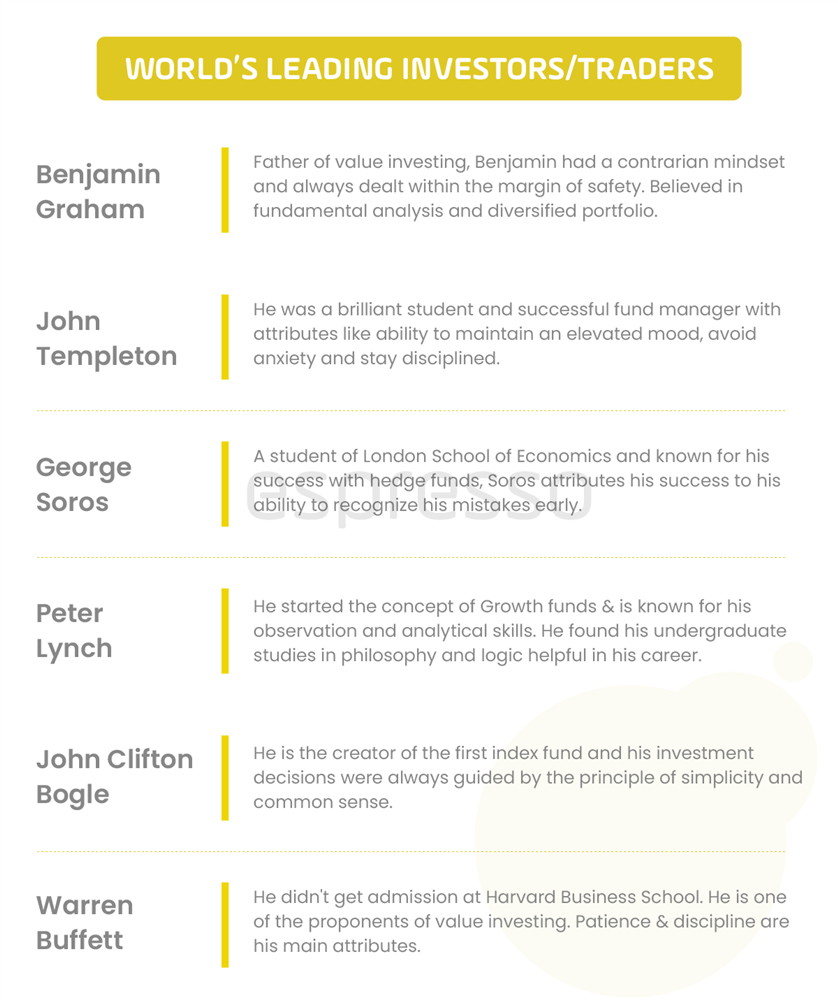 If you go through the life history of any legendary investor, you will realise that each one of them encountered their own sets of failures. However, they ended up being successful because of their determination and dedication. Apart from some basic trading skills, one needs to have the following qualities to be successful in the stock market:
Analytical skills: Analytical skills are required to collect the right data, analyse it, arrive at the right conclusion and act upon it. While several tools are available to ease the task of analysis, nothing can replace the human brain. You need to be good at numbers to learn trading skills, and if not, develop a love for numbers because equity research involves a lot of number crunching. Though an educational background in Commerce is not compulsory, it will help sharpen your analytical skills, especially while analysing the annual reports that are an indispensable part of the research.
You should also be able to source the data required, and that too at the right time. Nowadays, sourcing annual reports and quarterly results are not difficult as they are readily available online. Press releases, periodical announcements and conference calls are other data sources that are also available online.
If the analysis isn't your cup of tea, you need to identify a reliable source (a consultant or advisor) to provide you with time-to-time investment ideas. Most brokers these days have their own research team that provides timely advice, which you may rely on for your investment decisions.
Ability to stay calm:
Stock prices fluctuate, and these fluctuations can sometimes be wild. You should treat this as a part of the profession and not get upset with every single stirring. Staying calm under adverse conditions is necessary for success in any profession and to enhance your trading skills. The stock market is not for the faint-hearted, and one should be prepared for any eventuality. Operating with stop-loss usually lets you stay calm as it helps you define the loss in a worst-case scenario.
Staying calm is essential, as getting into panic mode will only force you to commit more mistakes. Confidence in your analytical ability will help you remain cool even under adverse circumstances. However, you should always guard against becoming overconfident or complacent.
Discipline:
Discipline is an important trait essential to success in investing and in enhancing your trading skills. Like any other profession, here, too, you need to set your goals, develop strategies to achieve those goals, make rules (for your own guidance) and stay disciplined to follow them under any circumstances. Setting rules and strategies for holding periods, defining the expected rate of returns, operating with defined stop-loss and following these rules strictly will ultimately ensure success in the profession.
Patience:
It is the greatest virtue, and you must cultivate it if you don't have it in sufficient measure. Always remember - you are just one of the millions of investors and traders in the stock market, and the market will not behave according to your wishes. Many traders may have better knowledge of trading, financial muscle, and access to better resources than you. Stock prices may remain stagnant for a longer time than you expected or move in a narrow range for a long duration before moving in the direction you had anticipated. Therefore, be patient and control your emotions to become successful in the stock market.
This is an excerpt from legendary investor Warren Buffett's annual communication to the shareholders of Berkshire Hathaway issued in 2019, which also emphasises the uncertain nature of stock markets and the need to control one's emotions to derive better returns
Points to remember
Your judgment should always be based on research and analysis, not emotions
Learning is a life-long process and should not end with one or a few successful trades or investments
Be realistic and never forget that achieving a 100% success rate is humanly impossible
Always maintain equanimity in both gains and losses since they are two sides of the same coin