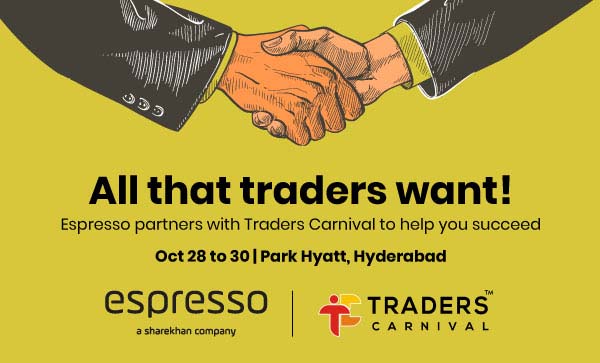 Why we're excited about this partnership – About Traders Carnival
For years, Traders Carnival has sought to educate new and experienced traders about the best new and established trading strategies and techniques. This year's Traders Carnival will not only continue that tradition, but also introduce numerous new topics that will help traders gauge, trade and hedge risk in exciting new areas in the markets.
Whether as an Options buyer, Options writer, Algo-based systems, trend following or any genre in the markets, we have seminal practitioners of the craft coming to The Pearl City this October. Spend 3 days with them in a residential format to interact, discuss and brainstorm away all your queries via interactive sessions.

What Traders Carnival has in store for you
Attendees of the Carnival at Hyderabad in Oct 2021 can look forward to some exhilarating stuff and immersive discussions over 2 nights and 3 days:
Watch how the experts handle expiry day trading (LIVE | Monthly expiry)
How to achieve consistency in BankNIFTY Futures Trading
Learn from a seminal ace how to blend Technical and Fundamentals to increase your profits over the long term
Icing on the cake – Two possible all-nighters for AMAs on two topics that are of relevance to all: Equity and Cryptocurrency
Metrics to use and information you need to know while adding Cryptocurrencies as an asset class to your portfolio – Yes, a new vertical for the first time at the Carnival
RBI regulations to understand before dealing in Cryptocurrencies
Yes, get easy access and information on an asset class that has performed exponentially over the last 3 years compared to Bank NIFTY or Crude.
•
Cryptocurrencies are not exchange traded products, these products do not have access to exchange investor redressal forum or arbitration mechanism.
•
Espresso and third-party partners make no warranty, express or implied regarding the quality of Services including but not limited to:

| | |
| --- | --- |
| o | the Services will meet your requirements; |
| o | the Services will be uninterrupted, timely or error free; or |
| o | any products, information or material obtained by you in connection with the services will meet Your requirements. |

•
We (i.e. Espresso) and Traders Carnival are unrelated entities and we do not authorize anyone to make any warranty on our behalf and you should not rely on any such statement(s).
•
If you have a dispute with other parties including Traders Carnival, you release and hold harmless Espresso (and Espresso's affiliates and officers, directors, agents, and employees thereof) from claims, demands and damages (actual and consequential) of every kind and nature, known and unknown, arising out of or in any way connected with such disputes.
•
The securities quoted are exemplary and are not recommendatory
•
Espresso does not facilitate or broker any dealings in cryptocurrencies.
Registered Office: Sharekhan Comtrade Private Limited, LodhaiThink Techno Campus, 10th Floor, Beta Building, Off. JVLR, Opp. Kanjurmarg Railway Station, Kanjurmarg (East), Mumbai - 400 042, Maharashtra. SEBI Regn. Nos.: BSE / NSE / MSEI (CASH / F&O / CD) / MCX – Commodity: INZ000041331; CIN No. U65100MH2015PTC269036 DP: CDSL-DP-451-2020; NSE Member id – 90194; BSE Member id – 6732; MCX Member id – 55400. For any complaints email at igc@myespresso.com.

Compliance Officer: Mr. Sandeep Adhangale; email id: compliance@myespresso.com; Tel: 022-67502000.
Disclaimer: Investment in securities market are subject to market risks, read all the related documents carefully before investing. Please refer the Risk Disclosure Document issued by SEBI and go through the Rights and Obligations and Do's and Dont's issued by Stock Exchanges and Depositories before trading on the Stock Exchanges. For commodities derivatives please note that Commodities Derivatives are highly leveraged instruments. Before investing in the asset class consider your investment objectives, level of experience and risk appetite carefully.